We're Getting Mutants in the MCU - The Loop
Play Sound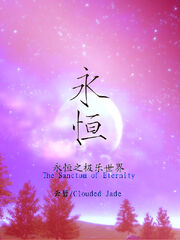 The Eternal Sanctum is an eastern fantasy (xianxia) novel written by the Chinese Author Clouded Jade. The web novel is currently being hosted on Creative Novels as a translation work, officially translated by the author.
Full List of released, translated chapters
Chapter Table Key
#Chapter
Number of Chapter in Release
#Webnovel Chapter
Number of Chapter on Webnovel
#Chapter Title
Official English Title of Chapter
#Web Novel Chapter Title
English Title of Chapter on Webnovel
All chapters are listed in increasing numerical order by their respective release date.
Volume 1: Mirror, Mirror
The first volume contains 163 chapters in total of the webnovel version, roughly equating to 30 chapters in the final release. It follows the story of An Fei as she is transmigrated to the Shattered Star Continent, her initial struggles of coming to terms with a world operating on a wholly different set of rules, and ultimately, her initial contact with an underlying secret regarding her identity and past.
In the Release, the first volume is divided into three parts, to accomodate for print manuscript limitations.
Volume One, Part One: A Fleeting Soul of Hope
Chapter
Web Novel Chapter
Chapter Title
Web Novel Chapter Title
1
1
Mirror, Mirror
Summer's Storms Begets Autumn's Blessings
2
An Ending, A Beginning
3
Get Out!
4
A New Appearance
5
A New World
2
6
Great Yong Empire
Shifting Winds Follow the Breath of Autumn
7
The First Attempt
8
A Crystal Throne
9
The Monkey of the Emperor
3
10
Did You Think of a Miracle? (1)
Miracles Must Come at Great Costs
11
Did You Think of a Miracle? (2)
12
Did You Think of a Miracle? (3)
13
Did You Think of a Miracle? (4)
14
Did You Think of a Miracle? (5)
15
Did You Think of a Miracle? (6)
16
Did You Think of a Miracle? (7)
4
17
Come, come! The Wei Family's face (1)
A Family of Wei Must Have a Golden Face
18
Come, come! The Wei Family's face (2)
19
Come, come! The Wei Family's face (3)
20
Come, come! The Wei Family's face (4)
21
Come, come! The Wei Family's face (5)
22
Come, come! The Wei Family's face (6)
23
Come, come! The Wei Family's face (7)
24
Come, come! The Wei Family's face (8)
5
25
A Cunning, Idiot Young Miss (1)
Cunning in Tandem with Idiocy
26
A Cunning, Idiot Young Miss (2)
27
A Cunning, Idiot Young Miss (3)
28
A Cunning, Idiot Young Miss (4)
29
A Cunning, Idiot Young Miss (5)
30
A Cunning, Idiot Young Miss (6)
31
A Cunning, Idiot Young Miss (7)
6
32
Eight Gates of Truth and Falsehood (1)
The Gates of Truth and Falsehood
33
Eight Gates of Truth and Falsehood (2)
34
Eight Gates of Truth and Falsehood (3)
35
Eight Gates of Truth and Falsehood (4)
36
Eight Gates of Truth and Falsehood (5)
37
Eight Gates of Truth and Falsehood (6)
38
Eight Gates of Truth and Falsehood (7)
7
39
Autumn's Fragrance; a frigid heart of snow (1)

Autumn's Fragrance attracts the Frigid Heart of Snow;

The Pavilion of Sun and Moon Attracts the Worthy.

40
Autumn's Fragrance; a frigid heart of snow (2)
41
Autumn's Fragrance; a frigid heart of snow (3)
42
Autumn's Fragrance; a frigid heart of snow (4)
43
Autumn's Fragrance; a frigid heart of snow (5)
44
The Pagoda of Sun and Moon (1)
45
The Pagoda of Sun and Moon (2)
46
The Pagoda of Sun and Moon (3)
47
The Pagoda of Sun and Moon (4)
48
The Pagoda of Sun and Moon (5)
49
The Pagoda of Sun and Moon (6)
50
The Pagoda of Sun and Moon (7)
9
51
A Touch with Arrogance; a Step into the Jianghu (1)
Arrogance at the Three Lotus Sect
52
A Touch with Arrogance; a Step into the Jianghu (2)
53
A Touch with Arrogance; a Step into the Jianghu (3)
54
A Touch with Arrogance; a Step into the Jianghu (4)
55
A Touch with Arrogance; a Step into the Jianghu (5)
56
A Touch with Arrogance; a Step into the Jianghu (6)